"Restitution" – Limited Release in Sept/Oct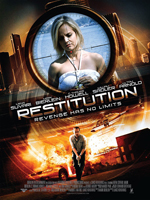 William Sadler recently worked on the independent movie "Restitution". The thriller from Visions Films focuses on a true crime writer who investigates a murder spree surrounding insurance fraud, and uncovers the devastating truth that leads him on a path of revenge and changes his life and the town forever.
The film was written and directed by Lance Kawas and stars Mena Suvari, Tom Arnold, C. Thomas Howell, Mark Bierlein and William Sadler.
According to indieWIRE Monterey Media has acquired North American rights and plans a limited release in September/October 2011.
A long synopsis as well as a flyer can be found on the website of the production company Visions Films.