"State of Georgia" Summer Finale Next Week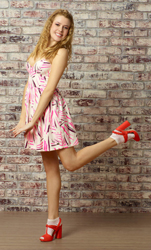 ABC Family announced via a press release that "State of Georgia" will feature back-to-back episodes on its summer finale night next week.
"It's Not Easy Being Green" airs at 9.00 PM ET/PT followed by another brand new episode at 9.30 PM ET/PT.
Make sure to tell your friends and tune in live on August 17, 2011.
Visitors of the official website, recently got an exclusive behind the scenes look of episode six "Mo' Honey, Mo' Problems". In the "Making the Episode" gallery you can find out how much work it is to put an episode of "State of Georgia" together.
Spread the word and tweet, tweet, tweet about the show ensuring that you add the hashtag #stateofgeorgia.