Happy #FollowFriday Roswellians – Part 3
Hey Roswellians, it's Follow Friday in Twitterland. This is the third edition of the "Happy #FollowFriday Roswellians" posts. If you can add further official or great Twitter pages please write a comment or send a tweet @crashdowncom.
---
On September 23rd, 1999 Liz Parker wrote her first entry into her journal. Please spread the RoswellLOVE on Twitter today. "September 23rd. Journal entry one. I'm Liz Parker and five days ago I died. After that, things got really weird…." You can join the Roswell re-watch and celebrate the day Liz Parker first wrote in her journal about her life changing experience with Max Evans and the other Roswell aliens! Since it's #FF in Twitterland make sure to show Shiri Appleby some #FF love. You can find her Twitter acount here: @ShiriAppleby.
---
Sadly, "State of Georgia" with Raven Symoné, Majandra Delfino (@MajandraD) and Loretta Devine won't come back for a second season. ABC Family announced that they decided to cancel the comedy show. Please contact ABC Family if you are unhappy with their decision and like the Save State of Georgia on Facebook. The official "State of Georgia" Twitter can be found here and this is the ABC Family Twitter page: @ABCFamily
---
As reported, tweeted and posted earlier, "A Gifted Man" premieres tonight on CBS. The drama is about a brilliant, charismatic surgeon (Patrick Wilson) whose life changes forever when his deceased ex-wife begins teaching him the meaning of life from the hereafter. Julie Benz plays the lead characters off-beat sister Christina. Tune in, tweet live and make sure to follow Julie Benz on Twitter.
---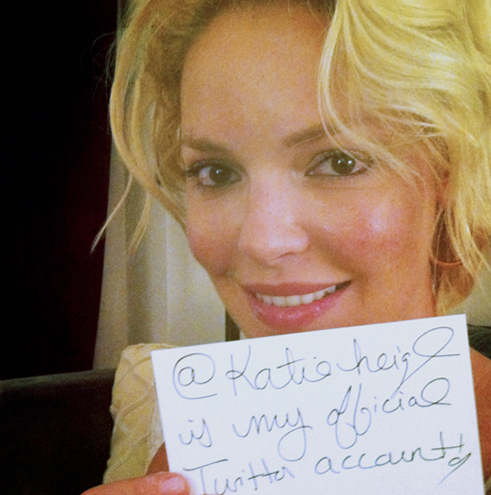 Via @KatieHeigl you can receive official news and updates on Katherine Heigl's career. Now, the actress decided to get more involved with social networking. On September 20, 2011 she posted her very first tweet and answered fan questions. Please follow Katherine and say "hi". The picture on the right was published on Katherine's official website www.kheigl.com.
---
16 hours ago Adam Rodriguez tweeted "Sacrificing 4 my art!!! About 2 get full body wax! Ladies, I literally feel ur PAIN!!! U think Schwarzenegger tried 2 get pregnant 4 Junior?" He shared a picture as well. Adam is focusing on his upcoming project "Magic Mike" and the production of a new season of CSI: Miami. Follow him @amaticrodriguez
---
If you've got a Twitter page please make sure to follow the amazing "Roswell" cast, guest stars, crew, writers and related pages on the micro-blogging service. Join us in this weekly international event and recommend them to your friends.
Happy tweeting and #FF love!
Official Cast
Official Projects
Related (Fan-Run)