Watch "A Gifted Man" tonight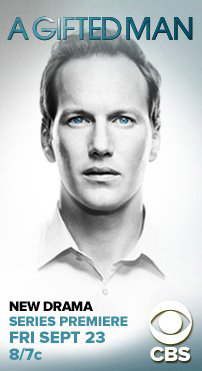 Get ready for the series premiere of "A Gifted Man".
CBS's new supernatural medical drama "A Gifted Man" with Patrick Wilson, Jennifer Ehle, Liam Aiken, Rachelle Lefevre and Julie Benz premieres tonight at 8/7c.
Julie Benz tweeted: "tonights the night!! A Gifted Man 8pm CBS! please watch!! xxoo " Follow her @juliebenz and make sure to tune in at 8/7c.
Learn more about the show and watch some preview clips on the CBS website. The official Twitter for the show is located @AGiftedMan_CBS. For news and updates like the series on Facebook, as well.
A Gifted Man
A GIFTED MAN is a drama about a brilliant, charismatic surgeon whose life changes forever when his deceased ex-wife begins teaching him the meaning of life from the "hereafter." Michael Holt (Patrick Wilson) is an exceptional doctor who lives a materialistic life of luxury thanks to his work-obsessed career and powerful and wealthy patients; however, Michael's ordered world is rocked when his ex-wife, Anna (Jennifer Ehle), an idealistic free-clinic doctor and the love of his life, mysteriously appears to him. Michael's off-beat sister, Christina (Julie Benz), a single mom to her teenaged son, Milo (Liam Aiken), is thrilled that Anna's back in her brother's life, even as an "illusion," because Michael was always a better person with her. Curious about Michael's sudden change in behavior is his efficient assistant, Rita (Margo Martindale). When Anna asks Michael to go to her clinic to help keep it running, he meets Autumn (Afton Williamson), a volunteer carrying on Anna's work with the underprivileged. Touched by those in need and accepting of Anna's compassionate "presence," Michael's attitude toward serving the rich and poor is turned upside down, and he begins to see that there's room in his life for everyone. Academy Award nominee Susannah Grant ("Erin Brockovich"), Academy Award winner Jonathan Demme ("The Silence of the Lambs"), Sarah Timberman, Carl Beverly and Neal Baer ("ER") are executive producers for CBS Television Studios.
Related News:
E!Online Fall TV Preview: A Gifted man, September 12th, 2011
Julie Benz signed on TNT's two-hour movie "Ricochet", July 30th, 2011