TV Fanatic: Interview with Emilie de Ravin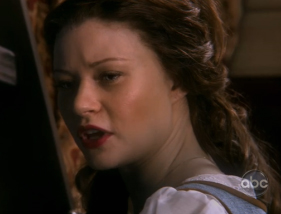 A short "Once Upon a Time" interview with Emilie de Ravin was released yesterday on TV Fanatic. Please follow this link and read it in full:
Emilie de Ravin Interview:
Belle of the Once Upon a Time Ball
In addition, here is ABC's synopsis for "Skin Deep":
After Mr. Gold's house is robbed, Emma keeps a close eye on him when it looks like he wants to track down the criminal and dole out some vigilante justice as payback, and Valentine's Day finds Mary Margaret, Ruby and Ashley (Jessy Schram, "Falling Skies") having a girls' night out. Meanwhile, in the fairytale land that was, Belle (Emilie de Ravin, "Lost") agrees to a fateful deal to give up her freedom in order to save her town from the horrors of the Ogre war.
The ABC show airs Sunday nights at 8 p.m. ET/PT on ABC. Don't miss!