"Bent" – Show Your Support!
Tune in tonight for a brand-new episode of "Bent" with Majandra's husband David Walton. The show airs Wednesdays at 9/8c on NBC. Learn more about the show and watch some preview clips on www.nbc.com/bent
Majandra just shared a link and if you're addicted to "Bent" show your support and vote YES for NBC to renew the show for a second season at bottom of this TV Line article.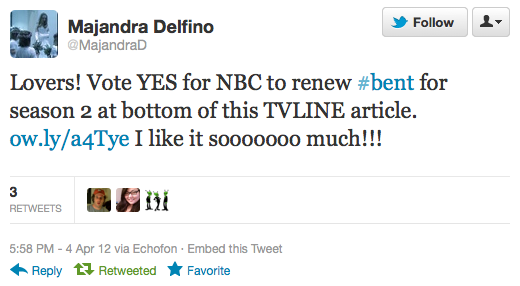 9 pm Bent (NBC) | In the freshman comedy's final two episodes (yes, really), Alex worries Pete may have succumbed to old habits when he's a no-show at the site, then Alex questions her feelings for her beau when during their romantic getaway she has a sex dream about Pete (meaning: maybe the kissy-face picture above is just make-believe and not a spoiler, as someone will inevitably carp). Dear NBC: Take a flier and do right by this show at upfronts. In fact, let's take a poll, gang….

Should NBC renew 'Bent' for Season 2?