"Roswell FM" – Status Update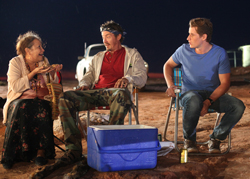 In August 2011 Brendan Fehr finished working on the movie "Roswell FM". The independent comedy is about the only "normal" person at a radio station focusing on the paranormal.
On Thursday, April 26th, "Roswell FM" posted a new status update on the post-production progress of the film:
Status update: The rough cut is coming to a close, animation is growing some legs (literally), and we have our first screening of the film with Mark Medoff on Saturday. Now, that doesn't mean much for our rabid fans out there, but we are inching closer to the goal.
© Photos courtesy of Roswell FM
Official:
Roswell FM Website
Roswell FM Facebook page
Roswell FM on Twitter
Related News:
"Roswell FM" – In the Editing Room, February 1st, 2012
"Roswell FM" – Cast Photo, August 12th, 2011
Brendan Fehr joins "Roswell FM", June 27th, 2011