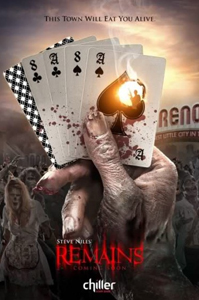 The horror flick "Remains" will be released on DVD and Blu-ray on August 7, 2012.
"Remains" is an adaption of the graphic novel by Steve Niles and Kieron Dwyer and premiered on the horror network channel Chiller in December 2011. Miko Hughes stars as a survivor of a zombie apocalypse.
The movie is available for pre-order on Amazon.com: Blu-ray | DVD
The bonus features include Chiller's exclusive prequel "Road to Reno" and much more.
Related News:
G4TV Interview with Miko Hughes, December 16th, 2011