"Night Shift" – Army vs AirForce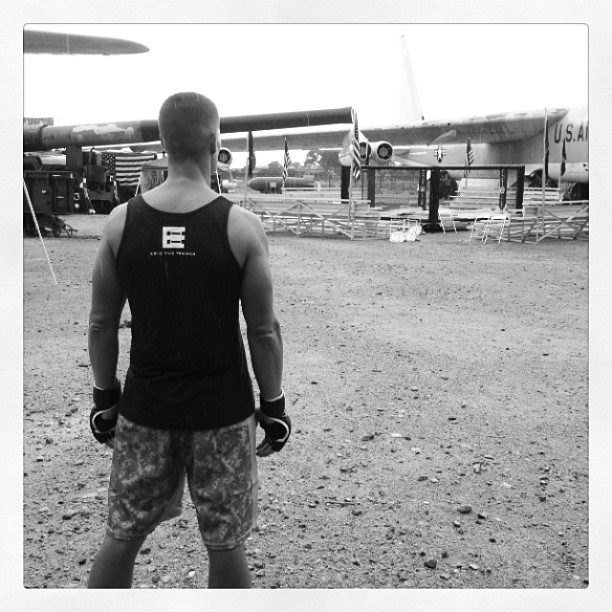 Some flashback scenes are on schedule for Brendan Fehr and the "Night Shift" cast.
Previously titled "After Hours", the upcoming NBC medical drama centers on Army doctors working the late shift at a San Antonio Hospital. Brendan Fehr plays Dr. Drew Alister, who is also an MMA fighter.
In some recent photos, Brendan and his co-stars posted online, we can see an Army set with a fight cage. A banner in the background reveals a MMA fight between the U.S. Army and U.S. AirForce. "Big artillery on set today., Brendan wrote on Twitter and shared a photo from the set.
"He fights like a man but he stretches like a girl." Eoin Macken, who plays Adrenaline junkie T.C. Callahan on the show, teased later that day.
In August 2012 Brendan filmed the independent feature film "Only I". The movie gives a dramatic insight into the mind of a MMA fighter. In preparation for the role, Brendan worked with personal trainer Eric Fleishman. Still in tip-top shape, Brendan shared a photo via his official Twitter page @UnrealFehr.
"Night Shift" from series creators Jeff Judah and Gabe Sachs is yet to be scheduled. The official Twitter handle for "Night Shift" is @NBCNightShift.
Follow the cast @UnrealFehr, @jrlemon2,@JillMFlint, eoincmacken, @JeananneGoossen, @FreddyRdriguez, @IamRobertBailey and show creator @Gabestuff.
© Photo courtesy of Brendan Fehr, Instagram "The calm before the storm"
Related News:
"The Night Shift" – Production Started, August 21st, 2013
Brendan Fehr Joins NBC Pilot "After Hours", November 9th, 2012
"Only I" – Filming Started, August 7th, 2012