"House Of Secrets" Premieres On Lifetime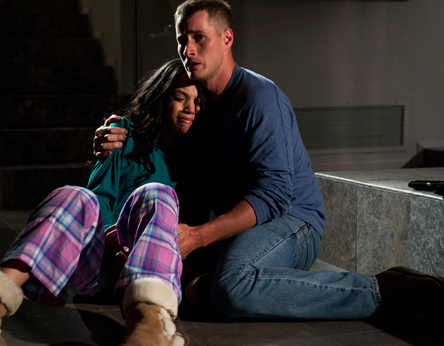 Brendan Fehr stars in the Lifetime movie "House of Secrets". Bianca Lawson, Neil Jackson, Stephanie Jacobsen and Costas Mandylor are also starring in the thriller, which premieres next Wednesday (January 1st, 2014) at 8 pm on Lifetime.
About

Relieved to finally divorce her abusive, bullying husband Sam, Julie Manning is determined to move forward with her life, despite having to move into the house Sam was building for them until she's able to sell it. Having hired handyman Tyler Jordan to work on some of the things that still need to be fixed in the new construction, Julie begins to realize that someone appears to be breaking into her house at will–the question is, is it Tyler, whom she barely knows, or Sam, whom she knows all too well?
Find out more about this new original Lifetime movie: www.mylifetime.com/movies/house-of-secrets/ There are additional airdates listed for "House Of Secrets": Thu Jan 2 at 12 AM | Sun Jan 5 at 4 PM
Thanks to www.brendan-fehr.net! Photo © Lifetime