Peoples Choice Awards 2015 – Pick The Official Nominees
Peoples Choice Awards 2015 is coming. Vote now to pick the official nominees. You can vote for up to five nominees! Starting on November 4th, winners can be selected.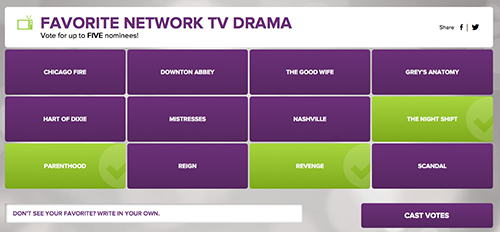 You can vote for Revenge (Nick Wechsler), The Night Shift (Brendan Fehr) and Parenthood (Jason Katims) in the "Favorite Network TV Drama" category. Once Upon a Time (Emilie de Ravin), Revenge (Nick Wechsler), Fargo (Colin Hanks), Defiance (Julie Benz) and Ronald D. Moore's Outlander and Helix are also listed in the voting for the official nominees.
Show your support and spread the word:
Favorite TV Show
Once Upon a Time (Emilie De Ravin)
Favorite Network TV Comedy
About a Boy (Jason Katims)
Favorite Network TV Drama
Parenthood (Jason Katims)
Revenge (Nick Wechsler)
The Night Shift (Brendan Fehr)
Favorite Cable TV Comedy
Silicon Valley (Martin Starr)
Favorite Cable TV Drama
Fargo (Colin Hanks)
Favorite Network Sci-Fi/Fantasy TV Show
Once Upon a Time (Emilie De Ravin)
Favorite Cable Sci-Fi/Fantasy TV Show
Outlander (Ronald D. Moore)
Helix (Ronald D. Moore)
Defiance (Julie Benz)