Majandra Delfino In New ABC Comedy Pilot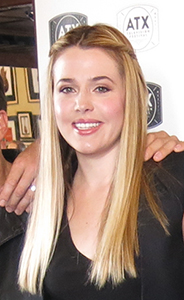 Majandra Delfino and actor James Roday are leading ABC's upcoming comedy pilot. The untitled pilot, previously titled "The Brainy Bunch", was inspired by the "Kip and Mona Lisa Harding" book.
"I'm remarried & my uterus has been doin its thang!" Majandra joked about her role as James Roday's wife and mother of seven on the show. Melanie Griffith is set to co-star. She will play her mother Celeste, a former pageant queen, who invites the family to live with her in Orange County.
From Deadline:
Majandra Delfino is set as the female lead opposite James Roday in ABC's untitled Molyneux comedy pilot (aka The Brainy Bunch), from Imagine TV and 20th TV. Melanie Griffith co-stars in the pilot, written/executive produced by Wendy & Lizzie Molyneux and directed by Jamie Travis inspired by the book by Kip and Mona Lisa Harding. Through a combination of genetics and dynamic home schooling, Kip (Roday) — a former Special Forces Operations Sergeant — and Mona Lisa Mitchell (Delfino) — a teacher with PH.D. in literature who believes that everyone on Earth is born with a special gift — find themselves raising seven brilliant kids.

Zoe Colletti, Spencer Tomich and Harrison Holzer have been cast as three of the kids. Griffith plays Mona Lisa's mother who takes them into her Orange County home. Brian Grazer and Francie Calfo executive produce.

The ABC pilot reunites Delfino with 20th TV after co-starring in the studio's CBS comedy series Friends With Better Lives. She is repped by APA and Ziffren, Brittenham.
I'm remarried & my uterus has been doin its thang! "@Deadline: Majandra Delfino To Star In ABC Molyneux Comedy Pilot http://t.co/18UBv7pm8N"

— Majandra Delfino (@MajandraD) March 14, 2015
© Photo by Lena for Crashdown.com
"Roswell Reunion" Press Conference at ATX TV Festival on June 8th, 2014 in Austin, Texas