"Outlander" Now Available In The UK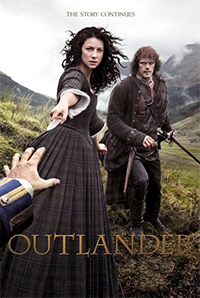 "Outlander" is now available in the United Kingdom. The television adaption of Diana Gabaldon's "Outlander" series can be streamed via Amazon Instant Video.
"Outlander" follows the story of Claire Randall, a married combat nurse from 1945 who is mysteriously swept back in time to 1743, where she is immediately thrown into an unknown world where her life is threatened. When she is forced to marry Jamie, a chivalrous and romantic young Scottish warrior, a passionate affair is ignited that tears Claire's heart between two vastly different men in two irreconcilable lives.
The show from executive producer Ronald D. Moore (co-executive producer and writer on Roswell) covers the entire first book in season one. A second season was ordered after just one episodes aired on Starz. It will be based on "Dragonfly in Amber", the second book in Gabaldon's best-selling series.
In the USA, "Outlander" is currently on hiatus until April 4, 2015 when the show returns on Starz.
#Outlander is now available in the United Kingdom! #StreamItTonight exclusively on #AmazonPrime. http://t.co/FZeza8KLtO

— Ronald D. Moore (@RonDMoore) March 26, 2015
Related News:
"Outlander" Marathon – December 25th, December 24th, 2014
Ronald D. Moore About His New Show "Outlander", August 9th, 2014