Tune in tonight: "Know When To Fold 'Em" (State of Georgia)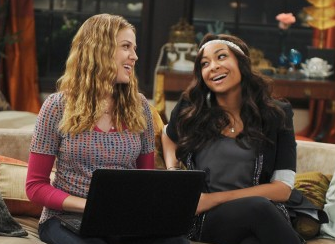 ABC Family airs a brand new episode of "State of Georgia" tonight.
You can already find some clips and previews on the official website: abcfamily.go.com/shows/state-georgia/
Majandra Delfino plays Jo, who moves out with her best friend Georgia to New York.
In this week's episode, Georgia books her first commercial. Jo develops a crush on her co-worker Doug, but she's too scared to talk to him…
Watch the show live at 8:30/7:30c and if you like what you see, head on over to Twitter and help #stateofgeorgia to trend!
Tell your friends, tweet about it and just have a good time.
Writer and exec producer Jennifer Weiner announced via Twitter that she will live-tweet today. Make sure to join her! She wrote "Got questions about the characters? The clothes? I can help! Maybe."
You can like the show on Facebook and follow @MajandraD, @MissRavenSymone and @ABCFgeorgia on Twitter as well!