"State of Georgia" – Finale tonight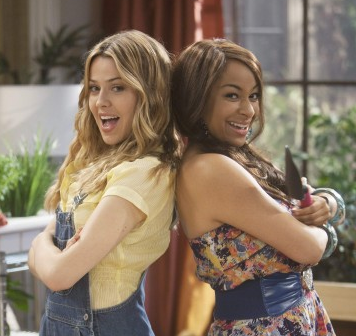 Please show your love for Majandra Delfino, Raven Symoné and Loretta Devine and watch the finale of ABC Family's "State of Georgia" live tonight!
Tune in to ABC Family for two all new episodes at 9/8c!
It's Not Easy Being Green
On the date, Georgia and Jo falsely inform the two farmers that they grow their own produce in their apartment and invite them to dinner. In order to keep up with their charade for a second date, Georgia and Jo plant different types of produce in the apartment as well as purchase a goat to make it seem like they make their own cheese – but can they keep it up, and are the two farmers worth all the effort?

Locked Up, a Broad
Georgia's in trouble after defying Aunt Honey and borrowing one of her dresses to wear in an upcoming audition. As soon as Georgia puts on the dress, it gets caught in a desk chair. She enlists Jo to help, but with her clumsy ways, Jo only makes things worse. Realizing they cannot call Aunt Honey, the girls have no other choice but to call Lewis to their rescue. Will he be the hero they need him to be?
The writers, cast and crew are doing an amazing job and they deserve a second season. Jennifer Weiner recently tweeted "We need great ratings if there's going to be more!" If "State of Georgia" makes you laugh… please show your support!
Spread the word and please help to trend #stateofgeorgia on Twitter!
Related news:
"State of Georgia" – Season 1 Finale Tomorrow, August 16, 2011
"State of Georgia" Summer Finale Next Week, August 14, 2011
Ultimate Roswell Season 1 – Maria and Michael Mix, August 14, 2011
Majandra attended ABC's "Summer Press Tour", August 8, 2011