Tune in tonight: "The Popular Chicks" (State of Georgia) – Aug 10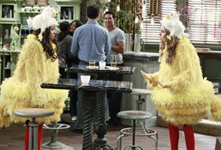 Did you enjoy the two hour Georgia-thon last Wednesday?
Tonight, ABC Family airs the brand new episode "The Popular Chicks" with a special music guest. Jason Derülo will be dropping in on Georgia and the girls.
Jennifer Weiner exec producer and writer on the show just tweeted "Hot, fresh #stateofgeorgia with @jasonderulo tonight! 8:30, ABC Family. Hometown rivals! Chicken costumes! Twitter jokes!"
Watch the show live at 8:30/7:30c and make sure to head on over to Twitter and help #stateofgeorgia to trend!