Ultimate Roswell Season 1 – Liz and Max Mix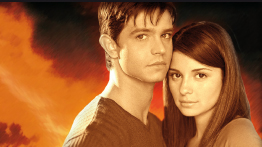 It just takes four chords of "Here With Me" to think about Roswell…
When Jason Katims was working on getting the Roswell DVDs released, he was faced with a difficult decision. Due to extremely expensive licensing fees, they either had to replace a lot of the original songs that played on the show, or not release the DVDs.
We're glad that the show came out on DVD, even if it's sad to relinquish some wonderful songs for budgeting reasons.
Allison was recently looking for the original music in order to make some Ultimate Roswell Music playlists. She told Crashdown "I still love the DVD collection, but it doesn't have quite the same feel as the original series."
Today you can check out the first playlist which is entitled "Ultimate Roswell Season 1 – Liz and Max Mix". Please tell us what you think in the comments below. Another great playlist will be added to the site next week.
Please note: Playlist created by Allison D. – Cover by Crashdown. For Fans, by Fans. No financial gain whatsoever is made.