Ultimate Roswell Season 1 Mix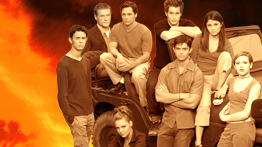 It just takes three chords of "Here With Me" to think about Roswell…
Please follow this link and take a look at the Ultimate Roswell Season 1 Mix playlist.
Do you remember which song played when Michael confessed to Liz that he stole her journal? Besides this song, you can find Sheryl Crow with "My Favorite Mistake" on this playlist.
If you missed previous music posts check the "Related News" articles below.
We hope you enjoy the music playlist and the cover artwork as much as we enjoy sharing it with you.
Please note: Playlist created by Allison D. – Cover by Crashdown. For Fans, by Fans. No financial gain whatsoever is made.
Related News:
Ultimate Roswell Season 1 – Maria and Michael Mix, August 14, 2011
Good memories, August 11th, 2011
Ultimate Roswell Season 1 – Liz and Max Mix, August 7th, 2011