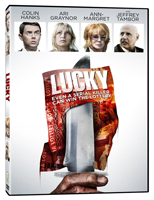 The dark comedy "Lucky" is out on DVD and Blu-ray today! The movie centers on a fledgling serial killer, played by Colin Hanks, who wins the lottery and attempts to pursue his lifelong crush. "Saturday Night Live" scribe Kent Sublette wrote the screenplay for this movie with Gil Cates Jr. who also directed.
Ari Graynor, Jeffrey Tambor and Ann-Margret also star in this movie.
Order your copy now:
DVD – amazon.com
Blu-ray – amazon.com
DVD – amazon.ca
Blu-ray – amazon.ca
It includes the feature film, plus bonus features like director's commentary, deleted scenes and a music video by David Choi.
Follow @theluckymovie and like the film on Facebook. The official website is located here: www.theluckymovie.com