"Collision Earth" – Tonight 9/8c (Jan. 14th)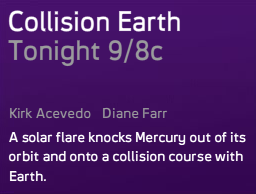 "Collision Earth" with Diane Farr, Kirk Acevedo and Jessica Parker Kennedy premieres tonight on SyFy. Make sure to watch a sneak peek on www.syfy.com and tune in at 9/8c pm.
A solar flare knocks Mercury out of its orbit and onto a collision course with Earth.
The actress tweeted yesterday "This is all true. #collisionearth premieres tmrw SAT @ 9pm on sci-fy channel. My 1st outer space movie! Can't wait to see it live.
If you're not following @GetDianeFarr yet, now is the time. The actress and author has a public Facebook page as well: www.facebook.com/getdiannefarr
Related News:
What Do You Love: The Actress (Diane Farr), January 9th, 2012
"Collision Earth" Premieres January 14th, January 3rd, 2012