"Breakout Kings" Will Return on March 4th on A&E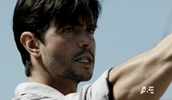 As already reported, "Breakout Kings" will return for its second season in March 2012. Now, a premiere date has been officially announced.
"Breakout Kings" returns Sunday, March 4th, at 10/9c on A&E.
Jason Behr guest stars in the first episode of the new season, which is entitled "An Unjust Death". He plays bad boy Damien, a convicted rapist and murderer who manages to escape from prison with the help of an adoring sycophant.
According to TV Line, Jason landed a potentially recurring role on the show.
Related News:
First Look at Jason Behr in "Breakout Kings", January 14th, 2012
Breakout Kings: Episode with Jason Behr is titled "An Unjust Death", December 22nd, 2011
"Breakout Kings" – Season 2 Premiere in March, December 17th, 2011