More Information on "Breakout Kings" – Season 2 Premiere Episode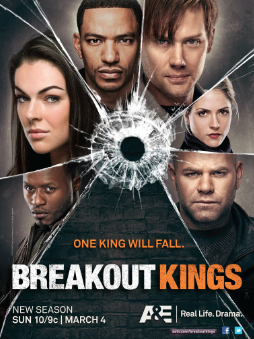 The official press release from A&E gives some further information on the premiere episode of the second "Breakout Kings" season:
[…] In the season premiere, entitled "An Unjust Death," the "Breakout Kings" are back on the job and in pursuit of Damien (guest-star Jason Behr, "Roswell"), a particularly ruthless and vicious serial killer. Lloyd was the doctor on the case that put Damien away eight years prior and the bad blood between them runs deep. In the midst of the investigation, the group learns that Charlie has been offered a promotion, leaving them uncertain about their future and the fate of the entire program. But as the pursuit of Damien intensifies, tragedy strikes and one of the Kings pays the ultimate price, forcing the remaining members of the close-knit team to cope with an unimaginable loss. […]
The show will return for its second season on March 4th, 2012.
Related News:
"Breakout Kings" Will Return on March 4th on A&E, February 9th, 2012
First Look at Jason Behr in "Breakout Kings", January 14th, 2012
Breakout Kings: Episode with Jason Behr is titled "An Unjust Death", December 22nd, 2011
"Breakout Kings" – Season 2 Premiere in March, December 17th, 2011