"Family Trap" – Follow the Cast on Twitter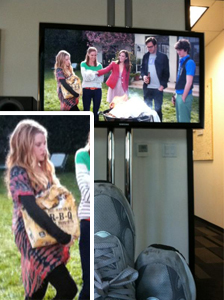 "Family Trap" director Shawn Levy shared a picture from the ABC pilot on Twitter. The photo shows Mike Castle, Mandy Moore, Nelson Franklin, Erinn Hayes and Majandra Delfino. Levy wrote "Real family's away-spending wknd editing my tv fame." Majandra is hiding her baby bump with a huge bag while filming this scene. Back in March, Majandra tweeted "I can't wait to start shooting my pilot! No, seriously…at the rate my stomach is growing I literally should not wait…"
In "Family Trap" Mandy Moore plays newlywed Annie. Erinn Hayes and Majandra are playing her sisters.
On March 30th, Majandra tweeted "Having so much fun at work. Nothing like playing a boozy head case when you're uber pregnant. Hands down the best time ever. Woop woop!" Her on-screen sister replied "@MajandraD you are HILARIOUS and brilliant and the cutest pregnant lady to boot!" and we agree on that!
Please make sure to follow the amazing cast and crew of "Family Trap" on Twitter. If you aren't following them on twitter yet, well than you've probably missed the great cast pic Mike Castle tweeted…
Hopefully the show gets picked up! Cross your fingers.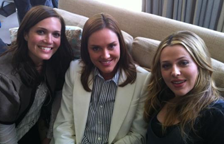 ---
Official Twitter pages:
Shawn Levy
Mandy Moore
Majandra Delfino
Erinn Hayes
Mike Castle
Nelson Franklin
© Photos courtesy of Shawn Levy / Majandra Delfino