"Spiderman" Painting Is Up For Auction Again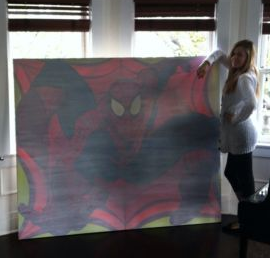 You can bid on the Spiderman painting from Majandra on Ebay again. Majandra tweeted "Roswell Tweeties, as promised Spiderman painting is back up for sale. Yay! A piece of my youth and messy love life! Get it while you can!" The auction ends on July 29, 2012.
Happy bidding and good luck!
Description:
You know all about it. I painted it and was given it back. Now what in the hell am I supposed to do with this thing?
If you want to own a piece of the drama – bid away!