Roswell Read-a-thon – The Wild One #2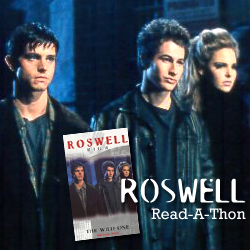 "Let's read the Roswell books together!"
On July 15, 2012 fans started the "Roswell Read-a-thon" with the first novel of the book series which was written by Melinda Metz and edited by Laura J. Burns.
"The Wild One" is next on our book list. The discussion starts on Sunday, July 22nd, 2012. Please make sure to join us. If you don't own the book yet, why don't you check out Amazon, Barnes and Noble, Simon & Schuster, iTunes etc. and buy an e-book version?
#02 – The Wild One

Order:
Simon & Schuster Adobe DRM (eBook)
NB.com NOOK Book (eBook)
Amazon.com | co.uk Kindle Edition

Book Description: Dangerous love…

Isabel: From the moment she hears the roar of Nikolas' motorcycle, she's hooked. This new guy in town seems to understand exactly how she feels and thinks, exactly what she needs. He's someone willing to let her be what she was born to be… the wild one.

Alex: He's jealous of Isabel's new boyfriend. Worse, he fears that Nikolas is dragging Isabel deeper and deeper into danger. If Isabel's not careful, Sheriff Valenti will discover the truth about her. And if that happens, no one from Earth will be able to save her…

First Sentence: "Gimme A U!"
We want a Roswell Movie created a public event for the Roswell Read-a-thon. Join them and discuss the book series.
Related News:
"Roswell High" – How They Started, July 15, 2012
Roswell Read-a-thon – The Outsider #1, June 7th, 2012