Shiri Will Be Back on "Chicago Fire"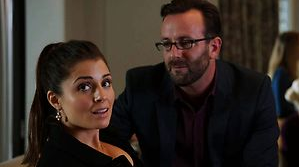 Shiri will be back on the NBC show "Chicago Fire". The co-creators Derek Haas and Michael Brandt spoke with TV Line about the Christmas Episode. In addition they revealed that Clarice will appear again on the firefighter drama.
TVLINE | Will Shiri Appleby' character continue to complicate Shay's life?
HAAS | Yep, she's going to be back.
BRANDT | The more complicated, the better! [Both laugh] HAAS | We love her character. We love that [Shay] has an ex-flame who showed up married and pregnant.
The episode is in the can already. Lauren German tweeted on December 8th: "Had fun with birthday girl @ShiriAppleby on set yesterday. Happy Birthday Shiri!!" Shiri replied "Best. Time. Ever. Show the pic!!"
On "Chicago Fire" Shiri plays Lauren German's pregnant ex-girlfriend. Earlier today, Shiri confirmed that she is expecting her first child with her fiancé Jon Shook. Congratulations to the happy couple!
Related News:
Shiri Appleby Is Pregnant, December 19th, 2012
"Chicago Fire" – Back Nine Pick Up, November 14th, 2012
Girls' 2nd Season Premieres on January 13th, 2013, October 18th, 2012