"Friends with Better Lives" – "Friends" Comparisons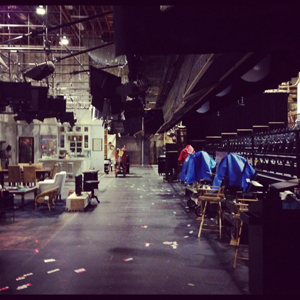 After leaving the "Keep Calm and Karey On" pilot, where Majandra had a supporting role… she quickly moved on and booked one of the lead roles in the CBS comedy "Friends with Better Lives" opposite James Van Der Beek, Brooklyn Decker, Kevin Connolly and Zoe Lister Jones.
Majandra plays Andi, an attractive and vulnerable mother of an infant and 3-year-old twins who is married to Bobby (Kevin Connolly) and is best friends with Jules (Brooklyn Decker) and Kate (Zoe Lister Jones).
Co-star James Van Der Beek recently spoke with the Huffington Post about the cancellation of "Don't Trust The B—- In Apt. 23", his latest "Funny or Die" parody and the multi-cam sitcom pilot for CBS.
From Huffingtonpost.com:
You and Krysten Ritter both booked pilots pretty quickly thereafter. Have you filmed the "Friends With Better Lives" pilot?
Yeah, we shot the pilot last week. It was great! It was a lot of fun. You know, it's a live audience, multi-cam sitcom and James Burrows directed it, who is the godfather of that medium. It's a really good cast and it was just a blast! It's something new for me — I have not done a lot of multi-cam sitcoms so it's going to be a challenge and we'll see. We'll find out in May whether or not it's able to crack that CBS lineup. [Laughs.] […]

The "Friends" comparisons seem inevitable. It sounds a bit like that six-some group, just 10 years later.
Yeah, I think so. These people are a little bit further down the line. I think it's somewhat of a fair comparison. What I liked about it was that they're dealing with the realities of being in your 30s.
James Van Der Beek also talks about the character he his playing. Read the full interview here.
Follow the cast on Twitter @BrooklynDecker, @mrkevinconnolly, @ZoeListerJones and @MajandraD and make sure to cross your fingers for a series order.
© Soundstage photo, courtesy of James Van Der Beek, Twitter
Related News:
Majandra Joins "Friends With Better Lives, March 14th, 2013