11-day-Roswell-Celebration – "Graduation" Trivia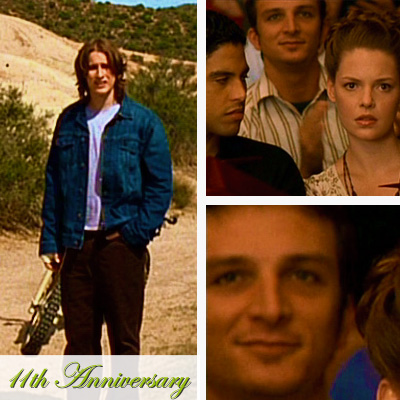 Today, we have some trivia for you. Please be sure to write us, if you can add something.
"Graduation" – Trivia
"Graduation" was supposed to be a two-hour finale.
In some scenes you can see a cast on Brendan Fehr's arm. He played hockey the previous night and broke his wrist. Brendan wore a sling around his arm during breaks.
Jason Behr's brother Aaron is sitting in the audience behind Isabel and Jesse.
You are looking for more Trivia and a behind the scenes look at the filming of "Graduation"? Check out this Crashdown.com exclusive:
"Graduation" – A Day on the Set
---
Make sure to tweet us @Crashdowncom, if you like to add something. Use the hashtag #alienblast so we can see your responses and Roswell tweets.
Write a comment or like or share our posts on Facebook.
---
With the 11-day-Roswell-Celebration we can show everyone and especially FOX, that fans are craving for more and thanks to Kristen Bell and Rob Thomas… studios know now what fan-power can accomplish these days.
Please spread the word and tell your friends. Even if you don't have a glimpse of hope that a movie could be made, please join us and just talk about your favorite show.
Related News:
11-day-Roswell-Celebration – Interview Snippets, May 22nd, 2013
11-day-Roswell-Celebration – Which Scene Makes You Most Teary-Eyed?, May 21st, 2013
11-day-Roswell-Celebration – Long Stupid Story, May 20th, 2013
11-day-Roswell-Celebration – What Character Would You Have Liked To …, May 19th, 2013
11-day-Roswell-Celebration – Your Favorite Michael Quote?, May 18th, 2013
11-day-Roswell-Celebration – If you could change one thing …, May 17th, 2013
11-day-Roswell-Celebration – Wedding Dress Poll, May 16th, 2013
11-day-Roswell-Celebration – Happy Anniversary!, May 15th, 2013
11th Anniversary of "Graduation", May 14th, 2013