11th Anniversary of "Graduation"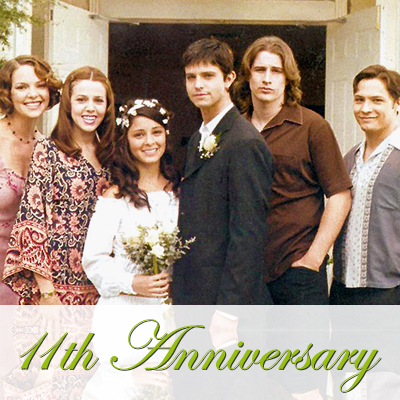 Before there was a sparkling vampire in love with a human girl, an amazing alien love story touched our hearts and what a ride it has been!
Starting today, we want to start the celebration of the 11th Year Anniversary of "Graduation" and Max and Liz's wedding day with the 11-day-Roswell-Celebration.
"Roswell" is something very special to us. Not just that we love the show, the characters and the fabulous actors, writers and people behind it – strong (fan-)friendships were made because of this unique series.
Even years after the end of "Roswell" the show still has a loyal fanbase.
We share the excitement about new projects, we tweet about the show and virtually pass out everytime when an actor/writer replies or retweets via the social media, we get stoked every time a journalists asks the cast a "Roswell" related question etc.
Let's use this Anniversary and talk, tweet, post about the show, the finale episode and draw attention to "Roswell".
Eleven years ago, Liz, Max, Isabel, Michael, Maria and Kyle left "Roswell". Our love for the show didn't end on that day – and let's just be honest.. we are still dreaming of a Reunion movie after all these years.
With the 11-day-Roswell-Celebration we can show everyone and especially FOX, that fans are craving for more and thanks to Kristen Bell and Rob Thomas… studios know now what fan-power can accomplish these days.
Please spread the word and tell your friends. Even if you don't have a glimpse of hope that a movie could be made, please join us and just talk about your favorite show.
So, who's going to watch "Graduation" today? Tweet us while you're watching!
Make sure to tweet us @Crashdowncom and use the hashtag #alienblast so we can see your responses. Feel free to leave a comment and like and share this post on Facebook.