PopSugar Interview – Emilie de Ravin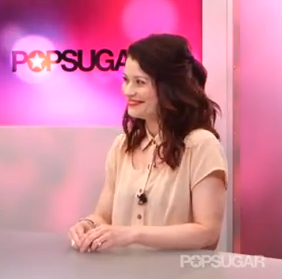 On May 2nd, 2013 Emilie de Ravin stopped by POPSUGAR Live! to talk about her character Belle, working with Robert Carlyle and their own hashtag #rumbelle.
She also discussed how her character has evolved and even picked out what fairy-tale characters her former "Lost" co-stars should play.
Watch the interview on YouTube, PopSugar Interview with Emilie de Ravin, and check out a photo the actress tweeted right before the interview.
The "Once Upon a Time" season finale will air tonight at 8|7c on ABC.
© Photo courtesy of PopSugarTV
Related News:
"OUAT" – Season 3 Confirmed + Season 2 Finale, May 12th, 2013
May 12: Revenge & OUAT Season Finale, March 23rd, 2013