#RememberROSWELL Twitter Campaign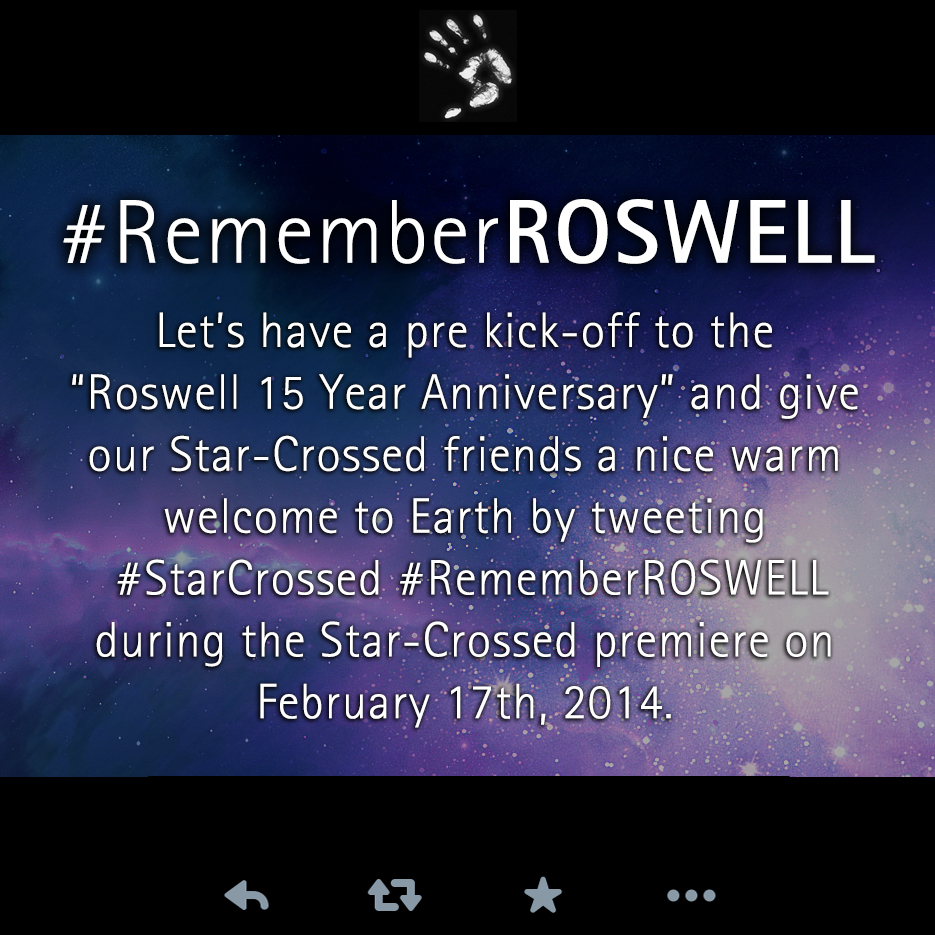 As earlier reported, 2014* is a special year for us Roswellians. The Twitter Challenge on February 17th, 2014 is a pre kick-off to the "15th Year Anniversary of Roswell" celebration that happens on October 6th, 2014.
The #RememberROSWELL #StarCrossed Twitter Campaign was brought to life from Roswell 12/10/00 which "is a nice and fun way to give our new aliens a nice warm welcome to Earth as well as pay tribute to Roswell and hopefully get more people into the show and to remember the good old days of Roswell." 
Please join us on February 17th, 2014 the day of the premiere of The CW's "Star-Crossed" and help us get Roswell listed as one of the most discussed topics on Twitter. William Sadler already showed his support for the #RememberROSWELL Twitter campaign when he retweeted a tweet about it!
Spread the word and tell your friends. Let's talk about our favorite show!
"Star-Crossed" premieres at 8 PM on February 17th, 2014 on The CW.
* 2014 would also be "The End Of the World", if Future Max had not travelled back in time.
Related News:
Almost 15 Years Later We Still Believe In Roswell – #RememberROSWELL, January 28th, 2014
Shiri On Roswell Movie Revival, December 7th, 2013
#RoswellRewatch – Where To Watch?, September 23rd, 2013
Roswell Re-Watch: Friends = Fans, August 14th, 2013