Diane Farr Guest-Stars on "Royal Pains"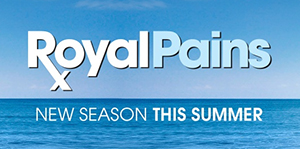 TV Guide reports exclusively, that Diane Farr is going to guest-star on "Royal Pains". She will play a private investigator in the fourth episode of Royal Pains' upcoming sixth season.
The new season premieres this summer on USA.
Summer is only a few months away, which means that Royal Pains is ramping up production. The USA series has recruited Numb3rs alum Diane Farr to guest-star in an upcoming episode, TVGuide.com has learned exclusively.

Farr will play Annie, a private investigator who is […]
Please read the full article on TV Guide: Exclusive: Royal Pains Admits Numb3rs Alum Diane Farr
In 2011, Shiri Appleby and Julie Benz both asked for medical help from the Hampton's hottest concierge doctor Hank.
Visit the official website here: www.usanetwork.com/royalpains