Flyer Giveaway: And The Winners Are …
At the risk of sounding repetitive: Thank you for participating in our recent giveaway!
In addition, many thanks to Jasonbehr.org & Sappleby.com for their excellent cooperation. A big thanks goes to Sherryn, too. Your help is greatly appreciated.
Not only was our contest a big success, but our "Roswell" 15th Anniversary flyer article received more than 1,530 clicks, during the contest's duration, and fans from around the world left profoundly thoughtful comments so that they could possibly win the following prizes:
Anniversary flyers signed by Nick Wechsler, Shiri Appleby and Brendan Fehr, a glow in the dark handprint T-Shirt and some other small surprises.
Because this contest was open to fans world- wide, it was wonderful to hear how Roswellians from countries like Belgium, Peru, Lithuania, Poland, France, Australia, Germany, the United States, United Kingdom, (and several more nations) are still deeply passionate about this show.
In short, all of you left fervent and enthusiastic comments about why "Roswell" is so special: even after a decade and a half. Again, thank you for sharing your stories and memories with us. We were honored.
What's interesting to note about this contest was that some of us received goosebumps after reading some of your comments. Instead of just publishing these wonderful comments, your powerful words actually inspired us to continue with celebrating the show's 15th year anniversary. Stay tuned to Crashdown.com for more information.
Based on several entries left on our contest page, we noticed different routes fans took into finding the show. For starters, several of you started watching "Roswell" in 1999, when it first premiered on the WB (now The CW). Years later, newer fans discovered the show through VOD services such as Netflix or Hulu. More fans later discovered the show after getting addicted to the cast and crew's newer projects, as well.
Even though awesome shows like ABC's "Revenge" and NBC's "The Night Shift" are on Summer hiatus, we're sure many of you are reliving Jack Porter's ('Revenge,' Nick Wechsler) earlier adventures as Kyle Valenti and are reliving Dr. Drew Alister's ('The Night Shift', Brendan Fehr) earlier adventures as extraterrestrial Michael Guerin on Hulu, Netflix, or by rewatching old VHS tapes from when the show first came out.
To many, "Roswell" was much more than just a show; it becomes part of the family.
For instance, Roswell fan Gina's children, Maxwell and Izzy, are named after the character's from the show and now they are old enough to watch the show. Also, thanks to comments from the contest page, we learned that most of you are re-watching the show at least once a year – but we're sure watching the show twice or thrice over can be just as invigorating.
"Roswell" may have ended more than a decade ago but the show is so profound that fans are still spreading the word by introducing it to friends, family members, neighbors, co-workers and beyond. In many ways the show is still alive and kicking, albeit it having a short run on TV.
Likewise, we'll also treasure the cutest love stories many of you shared with us because of the show. It's magical to think how one show can spark real-life romance across the world. Lastly, we'll also treasure some of your lovely and festive Roswell-related family stories as well as some truly heart-wrenching ones. Each comment posted left a lasting impression with us and we sorely wish we could make everyone a winner.
As we previously stated, we couldn't make everyone a winner but look on the bright side, we are looking into more fun contest opportunities. Maybe next time you will be first place and snag a great prize.
We also previously announced on Crashdown.com that EJ has won first prize: the "Roswell" 15th Anniversary flyer with all three signatures from former Roswell cast members. Three other winners will receive our other main prizes in the mail.
Thank you for an amazing prize, @crashdowncom!!! Thanks @unrealfehr @Nick_Wechsler @ShiriAppleby for signing it!!! http://t.co/v3udLCD6L5

— EJ Frederiksen (@ej8302) August 7, 2014
As an added bonus, we gave away some more signed flyers. Everyone who sent in a comment during the duration of our giveaway had an additional opportunity to get randomly selected for a little surprise. Winners have been contacted via e-mail and some have already received their prizes.
Thanks again to Brendan, Nick, and Shiri. You rock!
Here are some of our lucky contest winners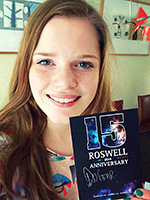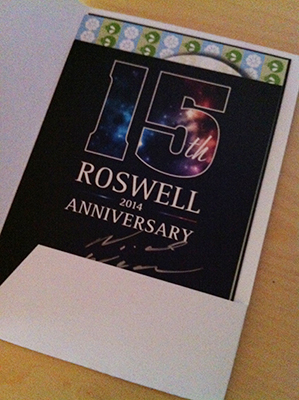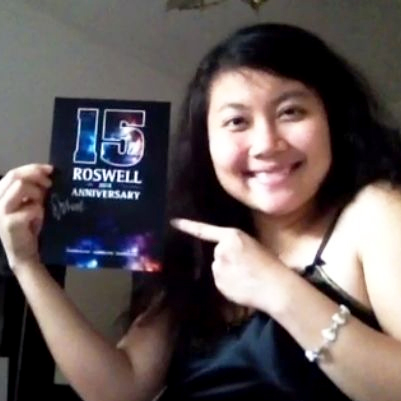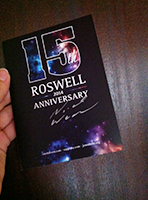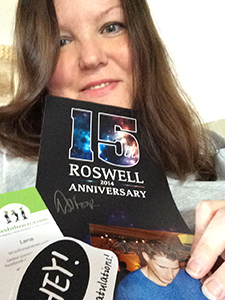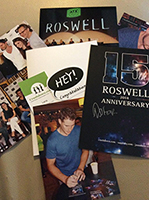 Related News:
Flyer Giveaway: Thanks For Participating!, July 24th, 2014
15th Roswell Anniversary flyer *Closed*, July 9th, 2014
A Love Letter to ATX Television Festival, June 27th, 2014