"UnREAL" – Get To Know The Participants & Crew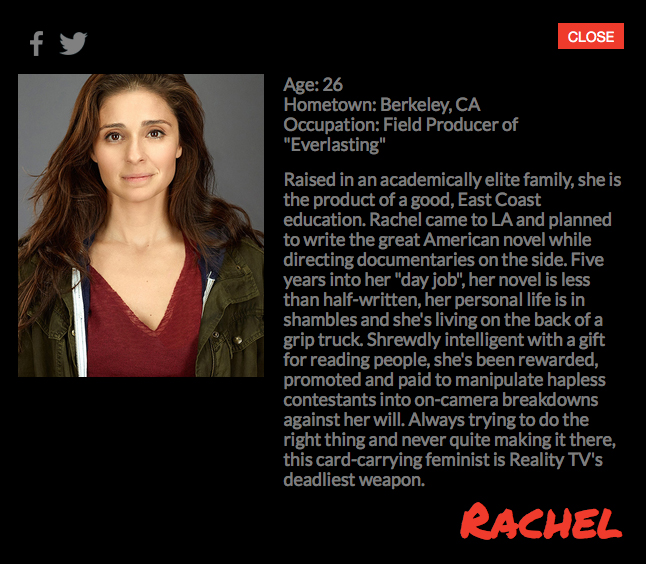 Are you ready for the "UnREAL" premiere?
Get to know the participants and the crew behind the fictitious dating show "Everlasting" by visiting Lifetime's "UnREAL" – Social Hook Up page.
There, you can learn more about Shiri Appleby's character Rachel and her background, too:
Rachel

Age: 26
Hometown: Berkeley, CA
Occupation: Field Producer of "Everlasting"

Raised in an academically elite family, she is the product of a good, East Coast education. Rachel came to LA and planned to write the great American novel while directing documentaries on the side. Five years into her "day job", her novel is less than half-written, her personal life is in shambles and she's living on the back of a grip truck. Shrewdly intelligent with a gift for reading people, she's been rewarded, promoted and paid to manipulate hapless contestants into on-camera breakdowns against her will. Always trying to do the right thing and never quite making it there, this card-carrying feminist is Reality TV's deadliest weapon.
Tune into "UnREAL" tonight at 10 PM and make sure to follow the cast and crew on Twitter:
Sarah Gertrude Shapiro
Marti Noxon
Shiri Appleby, Rachel
Constance Zimmer, Quinn
Freddie Stroma, Adam
Ashley Scott, Mary
Breeda Wool, Faith
Arielle Kebbel, Britney
Siobhán Williams, Lizzie
Johanna Braddy, Anna
Christie Laing, Shamiqua