KCRW's Guest DJ Project features Colin Hanks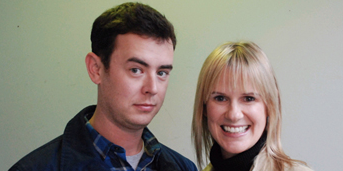 On October 12, Colin Hanks joined KCRW's Anne Litt. The actor and music lover prepared a Guest DJ set and talked about the songs he picked.
[…] For his Guest DJ set, he takes us through the tracks that have meant the most to him throughout his life – songs he uses when he needs inspiration or just a pure burst of rock 'n' roll energy.
Are you curious about the tracks? Please head on over to KCRW's Guest DJ Project with Colin Hanks. There you can read the transcript and listen to the entire show and snippets from his song list. The Guest DJ Project on KCRW is also available for download.
Colin Hanks and his producing partner Sean Stuart are currently working on a documentary about the rise and fall of Tower Records. Via @TowerRecordsDoc they shared that they are currently in Sacramento for some research documenting and preliminary interviews with former employees. Please follow them to receive the latest news on the project.
Colin is a special guest star on Dexter's 6th season. New episodes air Sundays at 9PM ET/PT on Showtime. Don't miss!
Related News:
Full Colin Hanks Interview on SMI Radio on June 23rd, June 23rd, 2011
#TowerRecordsDoc – Fundraising Goal Reached!, June 5th, 2011
All Things Must Pass: The Rise and Fall of Tower Records, June 3rd, 2011