"Answers to Nothing" screens at Napa Valley Film Festival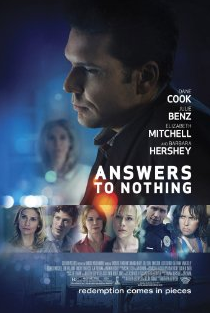 "Answers to Nothing" will screen at the Napa Valley Film Festival.
As already reported, Julie Benz plays a detective who investigates the missing girl. The festival movie page for the film can be found here.
Against the backdrop of a child abduction case, we follow five days in the lives of: a single parent detective assigned to the case; her best friend whose determination to get pregnant keeps her from confronting her husband"s infidelity; a school teacher and his obsession with the missing child that pushes him to the edge of vigilantism; a beat cop grieving over the violent death of his wife; a recovering addict and her wheel-chair-bound brother preparing for the LA marathon; and a self-loathing African American TV writer's search for love. Honest and real throughout, some scenes – including the opening – may be a little more "real" than some viewers are accustomed to; but the payoff more than makes up for any temporary discomfort. Answers to Nothing presents a captivating web of intertwining stories exploring the bad in the best of us and the good in the worst of us.

Courtesy of Roadside Attractions
Screenings
8:30 PM Thu, Nov 10: Opera House
2:00 PM Fri, Nov 11: Generations
2:00 PM Sat, Nov 12: Gliderport
The festival runs from November 9 to 13, 2011.
Official websites:
www.napavalleyfilmfest.org
NapaFilmFest on Facebook
NapaFilmFest on Twitter