"Love And Other Troubles" – Subtitled Trailer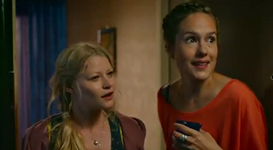 On November 15, 2011 the trailer for the almost romantic movie "Love And Other Troubles" was released via the official Facebook page.
Today, you can finally watch a subtitled version.
The Finnish movie is about the former child star Ville and his eccentric father who both fall in love with Emilie de Ravin's character Sara.
© Photo courtesy of Bronson Club / Love And Other Troubles
Related News:
"Love And Other Troubles" – Trailer, November 15, 2011
Emilie de Ravin joins ABC's fairy tale drama "Once Upon a Time", November 9th, 2011
"Love and Other Troubles" – First Look!, October 20th, 2011
Video interviews from the LAOT set, July 28th, 2011
Emilie supports the Catalyst Foundation, June 19th, 2011