Katherine's husband got a special tattoo for his girls
Katherine Heigl's husband singer Josh Kelley recently shared in an interview with Keepin' It COUNTRY that he is going to get a special tattoo in honor of Katherine and Naleigh.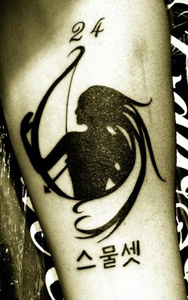 Josh said "I'm getting a Sagittarius symbol with a twenty-four and a twenty-three on each side. Those are my girls, they're Sagittarius, and their birthdays are the 23rd and 24th. That's cool, I'm gonna do it."
Some days later Katherine Heigl added some photos from the tattoo studio to her official Facebook and shared that her husband designed the piece of art "@JoshBkelley designed a pretty cool tat, first few ideas I wasn't so happy with." She added "Figured I should get a vote since I have to live with it and all!" Josh had his left inner arm inked and besides his wife his father-in-law supported him.
You can take a look at the photos from the tattoo studio and the finale result here. Katherine wrote "Here it is y'all! How cool is that??!! Kinda the most romantic thing anyone's ever done for me and so hot that he's such an amazing dad!"
Follow Katherine on Twitter @KatieHeigl and like her Facebook page here: www.facebook.com/KatieHeigl
Check out the full interview with Josh too:
EXCLUSIVE: Interview With Josh Kelley
The singer is probably starting to record his new album in March. The happy couple met at the production of Josh's first music video for the single "Only You".
Related News:
A Home For The Holidays, November 18th, 2011
Katherine & William talk Roswell on Twitter, October 31st, 2011
Katherine and Josh welcomed their daughter Naleigh, September 18th, 2009
Katherine Shoots Music Video, June 23, 2005