Roswell Read-a-thon – The Outsider #1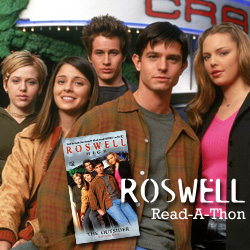 "Let's read the Roswell books together!"
One of the best things about summer are the vacations. Time to relax and the perfect time for a good summer read or re-read.
Starting on July 15, 2012 fans are going to read the first "Roswell High" book, The Outsider, by Melinda Metz again. Dig up "The Outsider" or buy the e-book version for your NOOk book or Kindle.
We want a Roswell Movie created a public event for the Roswell Read-a-thon. Join them and discuss the first book of the series.
#01 – The Outsider

Order:
NB.com NOOK Book (eBook)
Amazon.com | co.uk Kindle Edition

Book Description:
He's not like other guys. Liz had seen him around. It's hard to miss Max – the tall, mysterious senior stands out in her high school crowd. So why is he such a loner?

Max is in love with Liz. He loves the way her eyes light up when she laughs. And the way her long black hair moves when she turns her head. Most of all, he loves to imagine what it would be like to kiss her.

But Max knows he can't get too close. He can't let her discover the truth about who he is. Or really, what he is… Because the truth could kill her.

First Sentence: "One Sigourney Weaver and one Will Smith."