Roswell Read-a-thon – The Seeker #3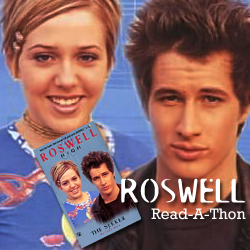 "Let's read the Roswell books together!"
Today, the third novel of the "Roswell High" series is next on our book list. If you don't own the book yet, why don't you check out Amazon, Barnes and Noble, Simon & Schuster, iTunes etc. and buy an e-book version?
#03 – The Seeker

Order:
Simon & Schuster Adobe DRM (eBook)
NB.com NOOK Book (eBook)
Amazon.com | co.uk Kindle Edition

Book Description: Circle of danger…

Maria: She hasn't told her friends about the strange glowing ring that she found. It seems to be giving her powers – special abilities that let her enter a world she's been dying to experience. Here's her chance to learn what she longs to know: how Michael feels about her.

Michael: He feels all alone on Earth and he's searching for a place to belong. He didn't count on discovering someone to care about right here in Roswell. Now he's falling for his best friend. But what he doesn't know, and Maria doesn't realize, is that she's drawing danger to them all…

First Sentence: "Hmm … I could wear this with those thigh-high tights I never wear," Maria DeLuca said softly to herself.
The discussion starts today Sunday, July 29th, 2012. Please make sure to join us. On August 5th, 2012 we will continue with book number four "The Watcher".
The Roswell Read-a-thon is hosted by We Want a Roswell Movie/Roswellfans.net.
Related News:
Roswell Read-a-thon – The Wild One #2, July 29th, 2012
"Roswell High" – How They Started, July 15, 2012
Roswell Read-a-thon – The Outsider #1, June 7th, 2012