"The Big Wedding" Release Date Moved to Spring 2013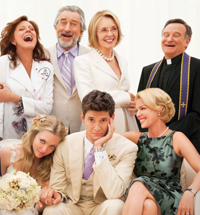 "The Big Wedding" with Susan Sarandon, Robin Williams, Topher Grace, Amanda Seyfried and Katherine Heigl was scheduled to hit theaters on October 26, 2012.
Unfortunately, the release date has been moved to spring 2013.
The official Facebook page announced, that the movie will hit theaters on April 26, 2013.
For news and updates about the movie please visit the official website www.thebigweddingmovie.com and like the Facebook page for the movie.
If you haven't seen the trailer yet, make sure to watch it now:

Description:

With an all-star cast led by Robert De Niro, Katherine Heigl, Diane Keaton, Amanda Seyfried, Topher Grace, with Susan Sarandon and Robin Williams, THE BIG WEDDING is an uproarious romantic comedy about a charmingly modern family trying to survive a weekend wedding celebration that has the potential to become a full blown family fiasco.
Related News:
"Shelter Me" – DVD Release, September 4th, 2012
"The Big Wedding" – Trailer, August 1st, 2012
Katherine Launches the "I Hate Balls" Campaign, November 29th, 2011