"Taste The Magic" & "Taste The Vengeance"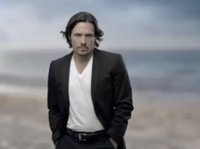 "ABC Sunday Night premieres in less than 3 weeks."
On September 30th, 2012 "Once Upon a Time" and "Revenge" will be back on ABC. Via the official ABCNetwork Facebook page a new promo trailer has been released.
The clip is amazingly well done, so make sure to watch the promo which features "666 Park Avenue" as well.
"Taste the magic" … "Taste the vengeance" … "Taste the seduction"
Emilie de Ravin is now a series regular on "Once Upon A Time". In the first season she played Belle in three episodes. You can see the entire first season on Netflix or buy the DVD or Blu-ray which hit stores on August 28, 2012. Season two premieres at 8/7c.
"Revenge" with Nick Wechsler is also available on the on-demand internet streaming website and you can own the complete first season of the show on DVD/Blu-ray as well. New episodes will air at 9/8c.
Related News:
"Once Upon a Time" – DVD Bonus Material, June 18th, 2012
"Air Force One Is Down" Clip, August 6th, 2012
"Revenge" Season 2 – Production Starts Soon, July 6th, 2012