Author Interview: Melinda Metz (Roswell High)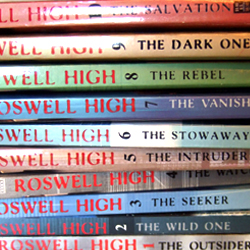 As a great closure of the Roswell Read-a-thon, please make sure to head on over to Avery Olive's blog and read her excellent interview with Melinda Metz. The interview is a fun-read and since Avery Olive is not just a reader but an author as well she spoke with Melinda Metz about both sides of "Roswell High".
Find out which scene from the books is Melinda's favorite, how she did come up with the idea of Akino and much more:
Author Interview: Melinda Metz (Roswell High)
Tuesday, 2 October, 2012 10:50 PM by Avery Olive
On Avery's blogspot you can find her "Roswell High" book reviews, as well. If you haven't read them yet, click on the images below and check them out. She also writes about the Roswell Re-Watch of the show.
As previously mentioned Avery Olive is an author, too. Her debut novel "A Stiff Kiss" was released on February 3rd, 2012 and her latest book with the tentative title "Won't Let Go" has just been sold to Crescent Moon Press. Find out more about "A Stiff Kiss" by visiting the novels section on averyolive.blogspot.ca or visit her official public Facebook page. On Twitter she already has 796 Followers. Why don't you give her a follow? When she reaches the 800, one lucky fan has the chance to win a ecopy of "A Stiff Kiss".
Roswell Read-a-Thon: Avery Olive's Book Reviews
---
Related News:
"Roswell High" – How They Started, July 15th, 2012
Roswell Read-a-thon – The Outsider #1, June 7th, 2012
Jason Katims Interview in Starlog, August 30th, 2002
Crashdown interview with Melinda Metz and Laura Burns, October 9th, 2001