"The Guilt Trip" Scheduled To Hit Theaters Dec. 19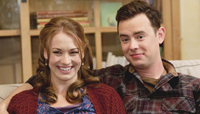 As earlier reported, "The Guilt Trip" aka "My Mother's Curse" was scheduled to hit theaters on December 25, 2012 in the USA. Now, the release date has been changed to December 19, 2012. The story follows an inventor (Seth Rogen) and his mom (Barbra Streisand) on a cross-country trip.
Colin Hanks has a small supporting role in the comedy. He attended the Los Angeles Premiere of "The Guilt Trip", which took place on December 11th, 2012 at the Regency Village Theatre in Westwood, California. Colin tweeted "On my way to the premiere of The Guilt trip cause I just remembered I'm in this movie #Babs"
Colin Hanks plays Yvonne Strahovski's husband Rob. Last year, he talked with Collider about his role. Colin explained "Seth is on a road trip across the country with his mother and they get stranded in a city where his old high school sweetheart lives, and he still has feelings for her. I am the high school sweetheart's husband." He also enjoyed working with Barbra Streisand. "She was fantastic and so funny, so sharp and really a fun person to work with."
Some photos from the premiere can be found here. Movie stills have recently been published on Movieweb.com.
The official website is located here: www.guilttripmovie.com
Related News:
"Guilt Trip" Hits Theaters December 25, 2012, September 2nd, 2012
"My Mother's Curse" is now officially titled "Guilt Trip", August 30th, 2011
Colin signed on "My Mother's Curse", May 27th, 2011