Shiri On HBO's "Girls" (March 3rd, 2013)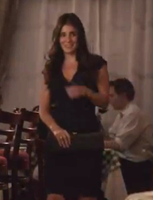 Shiri Appleby appears in episode "It's Back" of HBO's "GIRLS" on March 3rd, 2013. Please make sure to check out the first sneak peek on YouTube.
Shiri joined the show for an arc on the second season of HBO's Emmy-nominated comedy. She plays Natalie a beautiful and charming New Yorker and the new love interest for Adam (Adam Driver).
The official website of the show is available here. In order to receive the latest news, please follow #Girls on Twitter.
Thanks Shiri Appleby Online!