Tomorrow Is The BIG Day: "The Big Wedding" Hits Theaters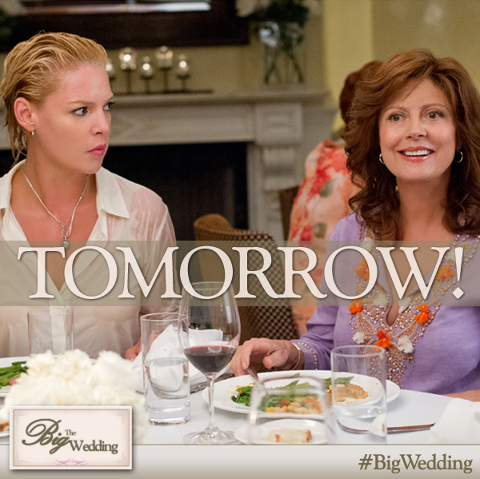 Tomorrow is the BIG day: "The Big Wedding" hits theaters.
Visit www.thebigweddingmovie.com and make sure to watch the trailer.
A "The Big Wedding" movie page is up on Facebook, too. Like the page, TheBigWeddingMovie, and receive updates.
To the amusement of their adult children and friends, long divorced couple Don and Ellie Griffin (De Niro and Keaton) are once again forced to play the happy couple for the sake of their adopted son's wedding after his ultra conservative biological mother unexpectedly decides to fly halfway across the world to attend. With all of the wedding guests looking on, the Griffins are hilariously forced to confront their past, present and future – and hopefully avoid killing each other in the process.
On Katherine Heigl's official website, www.kheigl.com, you can find the new article "Wedding Tips", which includes the ET interview with Ben Barnes, Diane Keaton and Katherine Heigl as well as some personal photographs the actress shared with fans on her social media pages, as she sat in hair and make-up getting ready to chat with the press.
© Photo courtesy of TheBigWeddingMovie
Related News:
"The Nut Job" – Release Date Announced, April 12th, 2013
iVillage: Get a Behind-the-Scenes Look at "The Big Wedding", April 10th, 2013
Katherine Heigl Joins Patrick Wilson in "North of Hell", March 31st, 2013