"See Girl Run" Hits Selected Theaters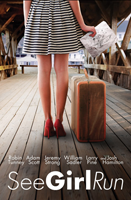 The independent movie "See Girl Run" is opening today in select theaters, on Video on Demand and iTunes.
Nate Meyer's romantic drama stars Robin Tunney, Adam Scott, Jeremy Strong, Josh Hamilton, Aubrey Dollar and William Sadler.
Watch the "See Girl Run" trailer and a sneak peak on trailers.apple.com.
Synopsis
When Emmie starts to think that her current relationship isn't enough, she can't stop wondering about her high school sweetheart, Jason, who stills live in their coastal hometown of Maine. On a whim, she throws caution to the wind and goes home to discover if he could be what she needs to reignite her life.
Check out the Twitter @SGR_movie and Facebook for news and updates.
Related News:
Watch "Onion News Empire" Pilot Online, Apr 19th, 2013
"See Girl Run" – Trailer + VOD Release Date, March 29th, 2013
"The Suspect" – Official Website, March 22nd, 2013
"The Onion Presents: The News", February 16th, 2013