"The Night Shift" Picked Up By NBC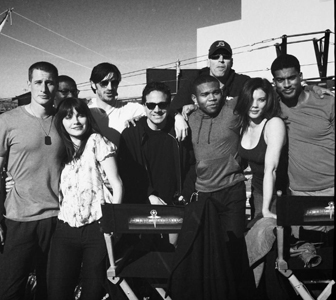 "The Night Shift" has been ordered to series. Previously titled "After Hours", the NBC medical drama centers on Army doctors working the late shift at a San Antonio Hospital.
The cast includes Eoin Macken, Ken Leung, Freddy Rodriguez, Jill Flint, Brigid Brannagh, Jeananne Goossen, Robert Bailey Jr., Brandon K. Hampton, J.R. Lemon and Brendan Fehr.
Gabe Sachs and Jeff Judah created the show. Pierre Morel directed the pilot.
Please read more about the plot below (via Deadline):
"THE NIGHT SHIFT"

Welcome to the night shift, where every day is a fight between the heroic efforts of saving lives and the hard truths of running a hospital.

At San Antonio Memorial, the men and women who work the wee hours are a special breed, particularly adrenaline junkie T.C. Callahan (Eoin Macken, "Merlin"). After a grueling tour of duty in the Middle East, T.C. is about to learn that his toughest battles will be fought right at home. He and his irreverent team of late-night docs, including Topher (Ken Leung, "Lost") and Drew (Brendan Fehr, "Roswell"), know how to let off steam with the casual prank or two, but when lives are at stake they are all business.

Unfortunately, the night shift is now under new management and boss Michael Ragosa (Freddy Rodriguez, "Six Feet Under") is more interested in cutting costs than helping people. But T.C. has never met a rule he couldn't break, or a person he won't stand up to. And it's clear that not even Dr. Jordan Santos (Jill Flint, "The Good Wife"), T.C.'s ex-girlfriend and now Ragosa's second in charge, has a chance at keeping him in line. If Ragosa wants a war, he'll get one.

Gabe Sachs and Jeff Judah ("Diary of a Wimpy Kid," "Freaks and Geeks") and Pierre Morel ("Taken") serve as executive producers. "Night Shift" is a production of Sony Pictures Television.
© Photo courtesy of Eoin Macken, Twitter
Related News:
Four Backup Scripts For "The Night Shift" aka "After Hours", Apr 19th, 2013
"Longmire" – Brendan Fehr Guest Stars, April 9th, 2013
"After Hours" – Cast Photo, December 2nd, 2012
Brendan Fehr Joins NBC Pilot "After Hours", November 9th, 2012