"Goodwin Games" – Adam Rodiguez Guest Stars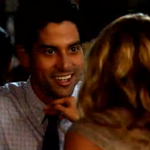 Watch the promo for the new episode of FOX's "Goodwin Games", which is going to air tonight at 8:30/7:30c. Adam Rodriguez guest-stars as Chloe's childhood friend Ivan, who has been in love with Chloe since their math club days.
Watch the promo on YouTube: Promo for "Happy Hour" | THE GOODWIN GAMES | FOX BROADCASTING
He first appeared in episode four "Hamletta" on June 10th. The full episode is still available online via the official website www.fox.com/the-goodwin-games/ until July 15th, 2012.
For news and updates, please follow @GoodwinGamesFOX, too.
Thanks to adamrodriguezconnection.com.
Related News:
Adam Rodriguez Joined CBS Pilot "Reckless", March 21st, 2013
"The Goodwin Games" – Adam Rodriguez, October 24th, 2012
Adam Rodriguez on "The Goodwin Games", September 14th, 2012