Shiri Appleby in "7 Minutes to Save the World"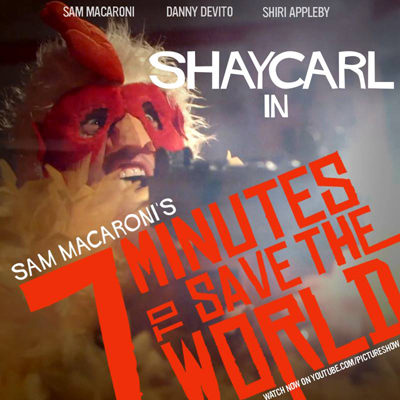 Today, the second original short film from Picture Show "7 Minutes to Save the World" was released on YouTube. The short features ShayCarl, Shiri Appleby, Steve Greene, Rawn Erickson, Sam Macaroni as well as the voice of Danny DeVito.
ShayCarl stars as undercover agent John Smith who only has SEVEN MINUTES TO SAVE THE WORLD from evil genius, Righteous Whale played by Danny DeVito, so he can return to his date with Caroline (Shiri Appleby).

Seven Minutes to Save the World (Directed by Sam Macaroni) is the second Picture Show Original short brought to you by Tribeca and Maker Studios.
Watch the short with ShayCarl as chicken-suit wearing undercover agent here: 7 Minutes to Save the World. Please make sure to check out the behind the scenes video and find out more about the short film.
Related News:
Shiri Attended the "Clearly Chateau" Event, May 27th, 2013
"Friends with Better Lives" Ordered To Series, May 13th, 2013
It's a Girl for Shiri & Jon, March 30th, 2013